No doubt, DX is much more than its definition can tell us. It's not even easy to find a definition at all for what we really mean when talking about DX. In the early days of amateur radio, "DX" stood for "distance bridged by a radio contact". But what dimension of distance are we talking about? How far must a station be apart before we accept it as "DX"? 5, 50, 500, 5,000 kilometres - even more? When I told a UA6-station, who answered my CQ-DX call on 14 MHz, that he was no DX, he answered that he had replied to me being a station outside his country, this being "DX". I must admit, I'd have been extremely happy if a UA6 would have answered my CQ DX on 144(!) MHz - but on 14 MHz?
My elmer once taught me that everything outside my continent was DX - a very clear definition, as it seems. But how will a station from Cyprus react when his/her CQ DX was answered by - say - a Greek station? And is a radio amateur on the arctic island of Franz-Josef-Land no DX for somebody transmitting from the island of Malta, but DX for somebody operating from Libya? In short: the criteria of being DX are (a) continent and (b) distance, the latter roughly dependent on the frequency used. For shortwave contacts (3.5 - 30 MHz), here is my personal rule of thumb of what should be considered DX (at least from a European point of view):
DX is...
...a station in another continent AND at least 1,500 kilometres (900 miles) away
OR: ...a station in one's own continent AND at least 3,000 kilometres (1,800 miles) away
For very obvious reasons, on VHF and UHF belonging to a continent is not that decisive. A distance of more than 800 kilometres (500 miles) should be considered DX on VHF, more than 600 kilometres on UHF. It's nothing like a rule of thumb - take it as that!
DX objectives
Another aspect is called into play when we are talking about DX objectives. There are DXers who work DX at random. Their only aim is to contact as many far-away (DX) stations as possible, no matter how very far away they are and what zones, territories, countries, islands these stations represent. In most cases, however, DXers have decided to pursue a more systematic plan: they are hunting and collecting QSL cards for DX awards and try to systematically collect different countries or territories, with the final aim of "having worked them all". "Having worked them all" in most cases means: having contacted (and confirmed by QSL cards) all countries and territories - "entities" as the ARRL calls them - of the so-called DXCC List. As most DXers follow this line, they engage in competition with each other. For them, everything they still "need" for their DXCC simply is "DX", although in many cases it is not DX by (the above) definition. An example: even for a European, 3A (Monaco) might be a rare DXCC entity which he or she still "needs" for a DX award - but it is not at all DX by (the above) definition! So please keep in mind: thriving for DX awards is just one variety of engaging oneself in DX, a subset, as it were, of working DX. There are many other versions of DXing, and everybody should respect them! The definition of what we mean when talking (!) about DX, however, should be, at least nearly, the same for everyone.
DXCC is the abbreviation of the DX Century Club programme, issued as early as 1935 by the American Radio Relay League (ARRL). There are 18 different DXCC-awards, crowned by the DXCC Honor Roll, perhaps the most-yearned-for trophy in amateur radio. Contacting 100 of 337 listed DXCC entities, which you need for the basic award (see picture), does not seem to be extremely difficult. Even a not too experienced operator, a DX newbie, with a modest station setup (100 watts output, dipole or vertical antenna) can easily make it within one or two weeks. "Worked 'em all" (which takes for granted that all QSOs are verified by a QSL card), however, is more or less a life-long challenge, and most DXers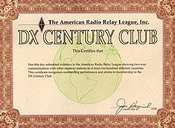 never reach this goal. The main reason is, that a lot of DXCC entities are not permanently represented by radio amateurs, because there are no human settlements possible (secluded reefs or small islands like Scarborough Reef, BS7, or Peter Island, 3Y), or where amateur radio is simply forbidden or impossible (as in North Korea, P5). Entities of that category are the preferred target of so-called DXpeditions, with teams of operators who peacefully invade the "rare spot" for a couple of weeks to make some 100,000 contacts or more in most radio modes and on all frequency bands with, hopefully, everybody who "needs" this geographic entity. An adrenaline festival for both parties, the DXpeditionists and the masses of hams calling, fighting, and finally contacting them (hopefully...) for an ultra-short message: callsign, report, confirmation. Not more than a matter of seconds. Next one please! The resulting pile-ups - that is the clusters of stations permanently calling the rare DX - belong to one of the madnesses and, maybe, seamy sides of amateur radio. No doubt, it's a real shame how many DXers obviously lose their heads - their fairness, sportsmanship, and good manners! - until after a couple of days the great storm is over and DX life is back to normal.
A DX trophy to fall in love with: a QSL card from North Korea (P5), an ultra-rare spot
Two other famous DX-awards are issued by the American CQ Magazine: the CQ DX Award (CQDXA) and the Worked All Zones (WAZ) Award. The CQ DX Award resembles very much the DXCC: 100 countries or entities to contact ("work") for the basic award using the same ARRL DXCC Entity List, with one exception: since 17th February 2008, the Kosovo (Z6) is a new one for the CQ DX Award (but not for DXCC). There are a few further disparities. Unlike DXCC, deleted countries (entities not in the list anymore, e. g. German Democratic Republic, Y2) do not count at all. There are honour rolls for CW, RTTY, and SSB (not for the MIXED modes) for which a station qualifies with at least 275 entities confirmed. It is a matter of taste (and financial investment) for which award you decide. Read the rules of both awards carefully, and make your own choice.
The Worked All Zones (WAZ) award refers to the 40 zones in which the CQ Magazine has divided the world. The award is issued for having worked and confirmed all zones, but there are endorsements, as with all other mentioned awards, if you fulfil the rules of the WAZ in a special mode, on one and the same frequency band, or on each of the five standard frequency bands. Some zones are rather difficult to reach, especially on certain frequency bands.
Relatively new in the series of CQ awards is The CQ DX Field Award. 50 or more grid fields of the Maidenhead Grid Locator System (AA through RR) have to be worked for the basic award, and there are several endorsements available. Working 50 grids sounds easy - and maybe it is not that much difficult - but remember that many of the 324 grids are simply water... I think the CQ DX Field Award is a great challenge for every DXer.
Another awards program having become very popular among DXers is the Islands On The Air (IOTA) program of the Radio Society Great Britain
(RSGB). They offer 21(!) separate certificates and two "prestigious awards for high achievement", as the handbook states. Have a look at the impressive handbook yourself. It is a lot of fun to work as many of the islands or island groups listed, although you probably need more than a lifetime to contact them all. The basic award is issued for having worked and confirmed 100 island groups, followed by certificates for 200, 300, etc until 1,000, and there are specific continent-oriented versions of the award (IOTA Africa, Antarctica...), for which you have to contact 75% of the island groups listed for that continent.
Forgive me for not mentioning the many other fascinating DX-awards. There are virtually thousands of them, and to describe them all would simply be beyond the scope of this article. Have a look into Ted Melinosky's The K1BV DX Awards Directory which - believe it or not - contains more than 3,300 different awards and diplomas from 119 countries. Another madness, but a friendly and a challenging one!
Knowledge, Tactics, and Tools...
Now, what are the prerequisites of becoming a successful and prominent DXer? No, it's not that much as many suppose a super-station with top-quality transceivers and linear amplifiers, multi-element directive antennas at a giddy height, and the like. A setup like that will no doubt provide you with a good and maybe outstanding signal everywhere in the world, and this certainly is an ideal basis for hunting the DX - but working rare DX-stations requires much more than efficient station hardware. It is, above all, operation skills. It is the operator, not the station, that finally wins the battle. So, again, what are the prerequisites of becoming a successful and prominent DX-operator?
Click on "next" to make use of MinkaTheDX-Cat's five DX-toolboxes. They should make DX-life easier for you.